NWT is an ambitious company that aims to link cities in Europe and beyond using a railway system. The project will be long due to the cost of building. NWT is already supported by few towns in Nova that helps the project.
We please ask you to be respectful of the work we put in this project and to not destroy the lines.
16/10/2019 : NWT Is created, La Rochelle NWT Station is built.
17/10/2019 : La Rochelle-Toulouse portion of railway is created. Toulouse TER Station is built.
18/10/2019 : Toulouse-Marseille portion of railway is created.
19/10/2019 : NWT Headquarters moved from La Rochelle To Perpignan. Updated project map
20/10/2019 : Perprignan TER Station is built.
21/10/2019 : TGV construction from Marseille to Paris began (Lane terraforming finished)
30/10/2019 : TGV 1 Electric lanes partially installed, rails partially installed. Terraforming finished from Marseille to Paris. Marseille TGV Station finished.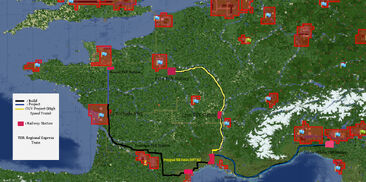 | Train line | Departure | Arrival |
| --- | --- | --- |
| TER 1 (b) | La Rochelle | Marseille |
| TER 2 (p) | Marseille | Milano-Turin |
| TER 3 (p) | La Rochelle | Rouen |
| TGV 1 (b) | Marseille | Paris |
| TGV 2 (p) | Paris | Amsterdam |
| DB 1 (p) | Amsterdam | Frankfurt |
| DB 2 (p) | Amsterdam | Bremen |
| SUB 1 (c) | Marseille | Atlantis |
(p) : Project, not built yet.
(b) : built
(c) : In construction
The FastPass system is being implanted on the railways, FastPass is a rail cart that can be used on all NWT Railways.
The price is $5 and can be bought in NWT Railway Stations via a chest shop (FP can be used on TER Lines and TGV High Speed lanes)
The future of NWT is big, the first objective is to link cities and make all European towns closer to each other. We want a big and useful railway system for people that cannot afford planes, due to rising costs.
Partner Companies
Edit
FlyNovus
Edit
On 20th October 2019,
FlyNovus
associated with NWT to create simpler ways to travel. The future Amsterdam Schiphol Terminal will have a TGV high speed lane to Paris, and other normal lanes to access close towns from the airport. This new partnership will bring fast connections for FlyNovus by extending the radius of action of the airport in Europe.
Projects
Edit
Atlantis Subway
Edit
The Atlantis Subway is a Project that aims to connect the city Atlantis in Sardinia to Europe via a huge tunnel under the mediterranean sea. The Subway will link Marseille TGV/TER Station in France to Atlantis in Sardinia
End of the Project
Edit
After more than 1 month and 15 days of existing the company decided to stop their activity due to heavy grief on all the rails in France and the costs of it. NWT Decided to focus on building roads in france via the new company ARF.
Community content is available under
CC-BY-SA
unless otherwise noted.